Prenatal Services
Spa Lé La services include 30 minutes of Lounge Time before or after your appointments.
All of our prenatal services have been specially designed for an expecting mama. All ingredients and services are safe for pregnancy.
Specialized Offerings
Massage therapy addresses different needs through varying techniques. A prenatal massage differs from a traditional one: For starters, you'll likely be lying on your side. Studies have found that moms-to-be can reap both mental and physical rewards from prenatal massage. Massage therapy performed during pregnancy can reduce anxiety, decrease symptoms of depression, relieve muscle aches and joint pains, and improve labor outcomes and newborn health. Other common benefits of prenatal massage include:
Reduced back & joint pain
Improved circulation
Reduced edema (swelling)
Reduced muscle tension and headaches
Reduced stress and anxiety
Improved oxygenation of soft tissues and muscles
Better sleep
Labor Stimulating massage is designed to help prepare you for welcoming your little one. It's both relaxing and energizing, allowing you to be your best self upon motherhood. Acupressure induction points on the inner calf and hands are applied along with key reflexology points on the feet. Muscle groups in hips and sacrum are massaged to encourage hip opening.
Pregnancy brings elevated hormone levels and can cause a variety of skin changes, which makes acne and pigmentation during pregnancy a common complaint. Both acne and pigmentation can be treated by your esthetician when using safe procedures & ingredients for pregnancy.
Oxygen Facial
Exfoliating Facial
Deep cleansing
Helps to soften the belly, soothe the baby and relax you!
Give yourself the freedom to take naps or bed rest as you experience moments of low energy while pregnant. Spa Lé La has a cozy nap room if you just need to get away for as little as 25 minutes, or as long as you need. Let us treat you to some relaxing mellow music, weighted blankets, a body pillow, warm flaxseed pillows for your neck and eyes, and heated beds to induce the sweetest of dreams.
Taking a luxurious bath that doesn't exceed 98.6F, your normal body temperature, is a safe way to relax while pregnant. In a bath much of your upper body will remain out of the water, making you less likely to overheat.
The Benefits:
Soothe Those Muscles
Skin Soother
Help with Digestion
Reduce Stress
Replenish Salt
Emotional and spiritual support – for mother and baby. Reiki supports women through the on-going physical, emotional and spiritual changes of pregnancy; this process helps to prepare them for childbirth. Many moms-to-be report feeling more centered, rested and grounded after a treatment. This gentle, healing energy can therefore be of great benefit to both the mother and her developing baby.
Reiki can safely be used at any stage of pregnancy and in conjunction with conventional medicine and complementary therapies including prenatal massage, prenatal yoga and chiropractic care.
Reiki during early pregnancy relieves many common discomforts such as exhaustion and nausea. Safe and gentle, Reiki will support the mother's body as she grows and changes, and can give relief to lower back pain, tension in the neck and shoulders and insomnia. The common 'fog' of pregnancy is often lifted after a Reiki treatment. Relieved of some of the physical and emotional discomforts of pregnancy, the expectant mother will sleep more soundly and will feel more relaxed and connected with her baby.
The Hartford Hospital in Hartford, Connecticut conducted tests in a clinical setting during pregnancy involving the use of just the simplest form of Reiki. These showed:
Reduced stress and anxiety during pregnancy by 94%
Reduced pain by 78%
Nausea and morning sickness reduced by 80%
Quality of sleep was improved by 86%
Craniosacral therapy assists the pregnant woman along her journey into mothering by releasing restrictions in the body and pelvis to co-create an optimal birthing experience. During pregnancy, one of the primary focuses is to release restrictions in the pelvis to resolve back and hip pain and tension and to prepare for an optimal labor and birth, including promoting optimal fetal positioning. Craniosacral bodywork assists the baby in the womb to have optimal labor, birth and bonding.
Craniosacral supports the pregnant women's inner resources for health, facilitating global balance in the body, heart and spirit. Through light touch, a therapist can balance the pelvis and uterus in pregnancy to ease and prevent ligament pain, posterior babies and low back, hip or rib pain. During labor and birth, women have obtained profound benefit from midwives and doulas trained in craniosacral therapy who are able to support them with comfort measures to balance and unwind the pelvis, uterus and sacrum. During the postpartum period, craniosacral therapy restores musculoskeletal reintegration, emotional balance and pelvic health and helps alleviate the discomforts of newborn care and mothering.
During pregnancy and delivery, a woman's body goes through a variety of changes, and in many ways, is in constant communication with the infant. A woman's body often "knows" what to do, but the stress and strain of delivery complicate the process. Craniosacral Therapy is now being viewed as a means of helping a mother prepare for labor and delivery physically and mentally.
Dry brushing can ward off stretch marks during pregnancy and help in tightening your skin during the third trimester. This is a great way to detox the skin during pregnancy. It assists in reducing cellulite and removes dead skin and impurities.
We start by using a natural-bristle brush to gently but firmly brush your skin in long strokes toward your heart usually, going over each area two or three times. At your belly, we brush in a clock wise motion. It helps detoxify by increasing blood circulation and promoting lymph drainage. Dry brushing stimulates the lymphatic system while invigorating the skin.
Acupuncture
Please click this link for information and to book. https://www.tamryn.org/
Hair Removal
You're all clear for down-there maintenance, but because you have more blood flowing to your skin during pregnancy—especially in your pubic area—you'll probably be more sensitive to tugging.
Brows
$25
Brazilian
$65
Underarm
$25
Full Face
$60
Upper Lip
$20
Half Arm
$40
Full Arm
$65
Chest
$30
Half Back
$30
Full Back
$40
Half Legs
$70
Full Legs
$105
Neck
$17
Tummy
$35
Ear Waxing
$17
Nostrils
$17
Trimester Packages
Now that you are pregnant, its not only important to think about what you put in your body but on your body. You should start thinking about the ingredients you are using on your skin. 60% of the products are absorbed into the blood stream. Our entire Mama Lé line is safe for pregnancy and nursing moms. In this package we start off with a 15 minute consultation into a prenatal facial using our one of a kind Mama Lé Products. After we bring out your natural glow, you will leave with our entire Mama Lé Line. These products will keep you glowing for the months to come.
Prenatal Facial (50min) | Service $155
Dreamsicle Cleanser (8oz) | Product $41.00
Mama's Lil Helper (2oz) | Product $53.00
Mama's Miracle (0.5oz) | Product $93.00
Night Night (2oz) | Product $73.00
Sun Smoothie (1.7oz) | Product $69.00
Time to start thinking about that growing belly. Best way to avoid those infamous stretch marks is to come in for our Belly Facials. You'll also take home our Baby La Lotion, with Sweet Almond Oil, Jojoba and Avocado oils to help keep your belly soft and moisturized, and even great to use on your baby after bath. Included in this fabulous package is our famous Prenatal Signature Massage followed by a much needed Nap.
Prenatal BELLY Facial (25min) | Service $85.00
Baby La Sweet Almond Lotion (8fl oz) | Product $30.00
Prenatal Massage (50min) | Service $100.00
Nap (25min) | Service $35.00
It's the Final Stretch, but we don't mean stretch marks. Keep those battle scars off with our lovely Belly Facial to help keep the skin moisturized and soft while it grows to full size. Relieve all the pre-baby tension and strain from your incredible body with our famous Prenatal Signature Massage. Then top it off with our desirable Prenatal Bath where you'll enjoy a deep soak in our luxurious tub by relaxing candlelight with bubbles and epsom salts. Then we will send you home with a tote filled of our amazing and all natural Baby La product line that's perfect even for the gentlest of skins.
Prenatal BELLY Facial (25min) | Service $85
Prenatal Massage (50min) | Service $100.00
Prenatal Bath (25min) | Service $35.00
Baby Smooth Healing Oil (8oz) | Product $54.00
Baby La Sweet Almond Lotion (8fl oz) | Product $30.00
Babies Bubbles (6.9fl oz) | Product $41.00
Now that you've prepared the hospital bag and gone through your checklists it's time to get YOU labor ready. Complete with our Belly Facial, you will also receive a 90 min Labor Stimulating Massage. And last but not least, we got you covered with a bikini wax.
Prenatal BELLY Facial (25min) | Service $85
Labor Stimulating Massage (90min) | Service $175.00
Bikini Wax (15min) | Service $45.00
Perfect Membership Plan | $89/mo
Membership Includes:
Each month chose between a 50 minute Massage or a Relaxation Facial.
Also receive a complimentary retreat service of a bath, nap, massage throne, or infrared sauna.
10% off all other services and products.
Every 500 Loyalty points receive $10 off your bill.
Complimentary childcare during services
Prenatal Package | 1hr 15min $170.00
Our massage therapists are trained in Pregnancy modalities and specialize in pregnant and postpartum services. This package includes our relaxing prenatal massage and our well-known Belly Facial.
PACKAGE INCLUDES:
Prenatal Massage 50 Minutes
Prenatal BELLY Facial
Baby Shower Gift Package | 50min $187.00
Give the perfect gift for mama and baby. Mama gets a prenatal massage and baby gets our Baby La Products super safe for baby and mama.
PACKAGE INCLUDES:
Prenatal Massage 50 Minutes
Babies Bubbles
Baby Smooth Healing Oil
Baby La Sweet Almond Lotion
Baby Shower Gift Package2 | 50min $212.00
Treat mama to a Prenatal Facial and gift her the Mama's Miracle Oxygen Serum. Truly the best gift for expecting mama.
PACKAGE INCLUDES:
Prenatal Facial
Mama's Miracle
Prenatal Product Recommendations
Owner, Trina Renea, designed our Mama Lé product line to be safe for pregnant mama's. She also created Baby La product line, which is both gentle and safe for newborn babies.
Mama Lé
Mama Lé Products were specifically created for pregnant and breastfeeding moms. When we are pregnant we want to use things that are safe for our baby. Mama Lé products are just that. These products are made with the safest ingredients, feel luxurious, and have proven results.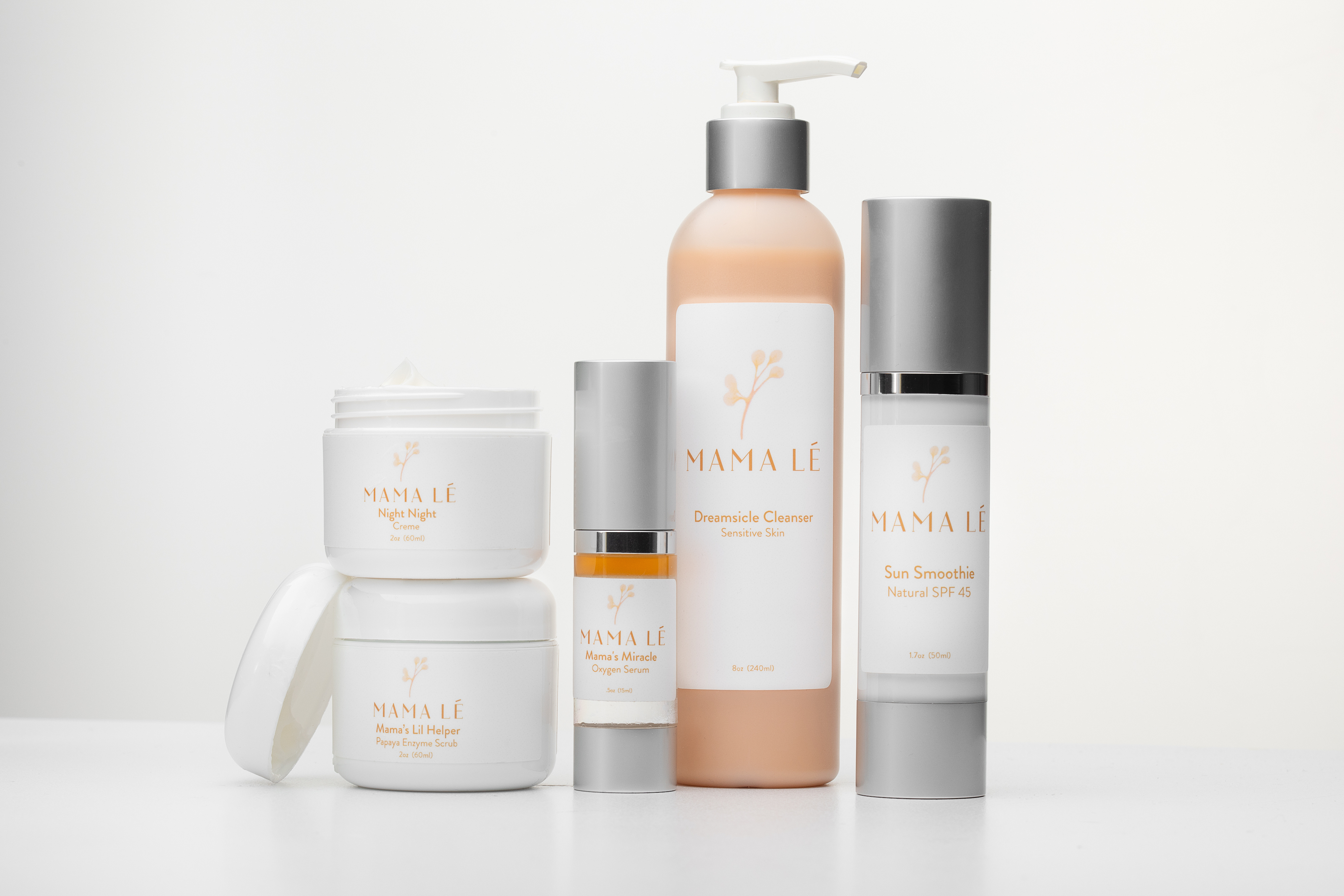 Baby La
These products were created to be safe for a baby and also safe for a mom. For the super sensitive skin or a different feel, you may enjoy these Baby La products for you as well.